Commercial Technology Licensing
Verasonics collaborates with companies around the globe to design, manufacture, and sell products based on our industry-leading technology by offering licensing. By working with Verasonics, commercial licensees achieve substantial savings in development costs, and improved time to market by eliminating the need for large teams of specialized developers and minimizing the amount of custom hardware required for a new product.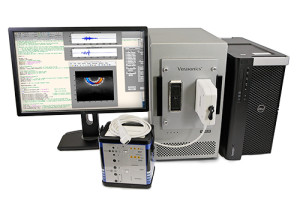 Verasonics provides the foundation upon which great ideas are built. The Vantage ultrasound system enables single developer innovation from concept to validation, and allows developers to focus on new application development rather than on ultrasound system design and development. Verasonics' unique software beamforming architecture using its proprietary Pixel-Oriented Processing method is particularly well-suited for ultrasound applications requiring features, such as ultra-fast frame rates, high power, high intensity focused ultrasound (HIFU), and/or high frequency.
To facilitate the application and use of the licensed technology, Verasonics offers timely "tech transfer" and technical support from our experienced team.  This lowers risk, saves time and money, and ensures success for licensees.
Verasonics has executed numerous commercial technology licenses across a broad range of areas including general diagnostic ultrasound imaging, breast imaging, renal denervation, orthopedic surgery, drug delivery, and brain applications. Three of these devices have achieved FDA clearance, and others are currently in clinical trials. While its list of licensees includes two "Forbes Top 20 Global Public Companies," Verasonics is interested in exploring potential technology licenses with companies of all sizes and at all stages.
11335 NE 122nd Way, Suite 100
Kirkland WA 98034