Introducing Vantage
A Revolutionary Approach To Ultrasound System Architecture
Verasonics has developed a revolutionary ultrasound system architecture that provides researchers and developers a unique platform with unparalleled flexibility for scientific investigation and innovation. The Vantage systems use state-of-the-art hardware and software technologies to provide access to raw ultrasound data from each channel, while preserving the ability to perform high quality real-time imaging at clinically useful frame rates.
Unparalleled Flexibility and Speed
In the fields of biomedical imaging, intervention, guidance and therapy, and for materials testing, NDT/NDE and earth sciences, the Vantage system offers extreme flexibility and precision.  Whether it is integration of a custom transducer array, development of novel beamforming techniques, or creation of  new image processing algorithms, the researcher can develop his/her own ultrasound system prototype or new application, and evaluate it under clinical conditions with unprecedented speed.
The system is designed to provide the researcher/developer with broad flexibility in defining each of the system's functional components, using a familiar and powerful software interface based on the MATLAB® programming environment. In fact, a single researcher can conceive, implement, and evaluate a new approach to ultrasound detection, imaging, monitoring or therapy using the Verasonics system…Read more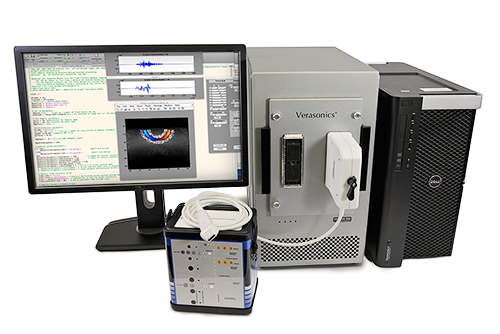 What's new from Verasonics
Vantage Image and Video Galleries
We invite you to examine high frequency images and video clips recently produced using Vantage systems and new high performance transducers … Read more
The image at left shows a mouse kidney acquired using a 30 MHz transducer on a Vantage High Frequency research system.  More images of mice and rats are included in the galleries.
GE Transducers Now Available for Vantage Systems
Verasonics now offers selected high performance transducers made by GE. By using the new UTA 408-GE adapter, Vantage users are now able to operate these probes on certain Vantage systems … Read more
Introducing the Vantage 64 – Accessible Performance
The flexibility and performance of the Vantage platform, at a surprisingly affordable price … Read more
State-of-the-Art Ultrasound Systems for NDT/NDE Research
Introducing the performance of Vantage technology to investigators in materials science and non-destructive testing… Read more
Verasonics publishes new White Paper on Bandwidth Sampling for High Frequency Transducers
One frequently asked question about the Vantage High Frequency configuration is how to accurately record signals from transducers that have frequencies above the system's Nyquist limit.  This paper describes two approaches:  Bandwidth Sampling and Interleaved Acquisitions that take advantage of the user's ability to adjust the sample rate and program the filters. …Download the White Paper
Verasonics publishes Arbitrary Waveform White Paper
Verasonics has just released a technical description of a powerful feature that is available on all Vantage systems – the Arbitrary Waveform Generation option.  This new white paper describes how this unique capability and its accompanying tool kit allows researchers to define and generate coded excitation and other analog waveforms for improved performance in many applications ….Read more.
Includes examples, FAQs and references
Verasonics introduces the L22-8v CMUT Linear Array
The first commercially available CMUT transducer for research is now available from Verasonics, and is compatible with all Vantage systems.  With Kolo's SiliconWave™ technology using 256 elements and 80% bandwidth, the L22-8v opens new opportunities for broadband, high frequency imaging….Read more.
New Image Reconstruction And Optimization Techniques
Verasonics continues to improve the performance and expand the capabilities of the Vantage research ultrasound platform. The Advantage 2015 upgrade provides a major improvement in biomedical image quality as a result of new post reconstruction image processing algorithms and user-adjustable imaging features. As a result, the Vantage system produces clearer, more detailed images in fundamental and harmonic imaging. These improvements affect imaging with all Verasonics transducers, and new example scripts are included… Advantage 2015 Upgrade
Universal Transducer Adaptor
The most flexible research ultrasound system just became more flexible!  Vantage systems can now support transducers that utilize 360-pin and 408-contact connectors, as well as all current Verasonics transducers.  The UTA (Universal Transducer Adapter) is available as an upgrade on all Vantage systems.  It enables use of other transducers… Read more
The UTA can be changed in about one minute — no tools required
New and Expanded Software Tools to Facilitate Development
The Advantage 2015 Upgrade provides powerful new toolboxes including:
Control Script Analysis Tool (helps to visualize structure contents)
RF Filter Design and Visualization tool
Analog Waveform Design Tool
Transmit Beam and Waveform Visualization Tool
RF data viewer
Shear Wave Generation and Visualization Example Script
Multiple-System Synchronization Example Scripts
Imaging with up to 2048 Channels
Verasonics has developed an elegant solution for accurate phase synchronization of up to 8 Vantage systems, enabling fully parallel acquisition with up to 2048 channels. Read more
Verasonics' Multi-System Synchronization Module
Vantage Low Frequency
Verasonics has developed a new configuration of the Vantage system for low frequency applications.  With a range from 50 KHz to 1.5 MHz, the Vantage Low Frequency configuration enables new research applications in earth sciences, NDT and neuromodulation, and further expands the capabilities of the Vantage platform.  This configuration is available on the Vantage 128, the Vantage 64 LE, and the Vantage 64 systems.  Read more
Vantage Low Frequency operates from 50 kHz to 1.5 MHz
Vantage Systems receive Certification
The Vantage system has been certified to the following standards:
IEC 61010-1 3rd Edition (2010) and EN 61010-1:2010 3rd Edition
UL 61010-1: 2012 and CAN/CSA-22.2 No. 61010-1-12
61010-1 is the internationally harmonized safety standard for laboratory, process control, and test & measurement equipment.
The UL 61010-1: 2012 and CAN/CSA-22.2 No. 61010-1-12 is the harmonized CSA, ISA, and UL standard for Electrical Equipment for Measurement, Control, and Laboratory Use.
Verasonics Expands Distribution
Verasonics has opened a European office in the UK to provide timely support for customers in Europe.
For customers in Japan, Verasonics has partnered with Tokyo Instruments, Inc. an established manufacturer and distributor of laser technologies for laboratory research and industry.
Verasonics customers in China benefit from local support provided by Beijing Suntesting Technology Company Ltd.