Upgrade Your Current Verasonics V-1 System
Why Upgrade?
Verasonics offered the V-1 Ultrasound Acquisition platform from 2009 to 2016. Many of these systems are still being used by researchers in labs around the world. In 2013 Verasonics introduced the Vantage platform to provide a higher level of performance, additional applications, and more research flexibility. Compared to the V-1 Acquisition System, Vantage systems provides the following technical advantages:
Extended frequency range – 500 kHz to 20 MHz transmit frequency vs. 750 kHz to 15 MHz on the V-1 system

Capable of 500 kHz to 27 MHz receive frequency
Multi-channel, Arbitrary Waveform Generation capability

Improved time delay resolution to 4.0 nsec, vs 5.6 nsec on V-1

Programmable anti-aliasing analog filter cutoff: 10, 15, 20, 30 MHz

14 bit A/D converters with programmable sample rate up to 62.5 MHz vs. 12 bit A/D on V-1

User-programmable, per-channel digital lowpass (23 tap) and bandpass (41 tap) filters

Local buffer memory for RF acquisition increased from 8 to 64 MB/channel. Digital averaging, filtering, and decimation may be performed on data prior to transfer to host computer to improve signal to noise and reduce data bandwidth

Data transfer to host computer via 8 PCI express lanes – sustained data transfer rates up to 6.6 GB/s vs. 2.8 GB/s on V-1

Additional sample scripts using the MATLAB environment are included to help new users get started
Download the Vantage System Brochure
A set of over 500 example scripts (acquisition sequence programs) for various transducers and applications, including plane wave imaging, color flow and power Doppler, spectral Doppler, conventional line mode imaging, radiation force and shear wave visualization, coded excitation, and many others. These can be modified or replaced by the user to create novel algorithms.
Let us help you get the most out of your research!  
Because there are a variety of product configurations, with unique sets of features, options and tools, every upgrade situation will be different. We invite you to talk with us about upgrading your V-1 system. Let's explore what makes sense for your lab.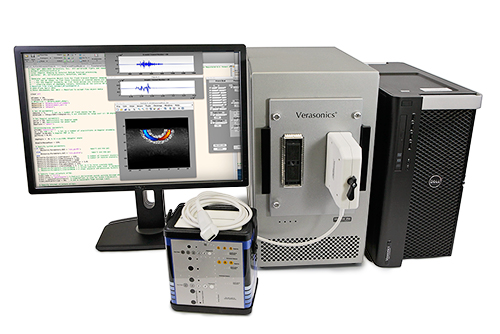 11335 NE 122nd Way, Suite 100
Kirkland WA 98034